I know

Halloween is 3 months away,
however
I still find myself dreaming up
a Halloween wish list
for the coming season.
It's no help that some stores
are
already starting to fill their
shelves and websites
with
all manner of Halloween
gewgaws & gimcracks.
Here's a Spooky Halloween Bird House (!?)
from Terry's Village
for $8.99.
get one here
and some Halloween jars from
Oriental Trading Company for $10.
get one here
The Glitterville candy cupcake pedestal stand
for $69.99
The candy on the stand
matches my candy candle below
Glitterville cat on pumpkin candle holder
Next...
get one here
we have a Hanging Bat Votive Holder
from Pottery Barn for $34.50.
Here's a Williams-Sonoma black cauldron
"serving bowl"
and a
set of 4 cauldron mugs
for
$69.99 and $39.95 respectively.
Z Gallery
has a few creepy things already,
these mercury glass pumpkins, $19.95 - $39.95
and...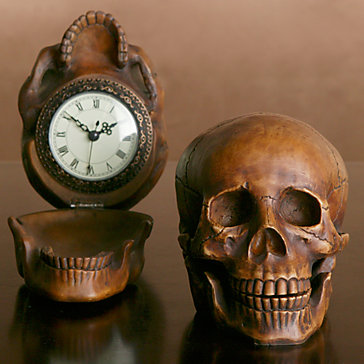 get one here
this skull clock caught my eye at $34.95.
me searching old computer files
and favorites lists
for old wish list items that I missed
the first time they were out.
Which then leads to crazy Ebay hunts
for said items...
2010
A Meyda Tiffany stained glass Jack O'Lantern
Finally...